---
New Feature Highlights
- E-map lays out the locations of cameras/sensors/alarms within the facility floor plan
- Real-time object tracking by PTZ domes
- PTZ Dome to Preset Position On Alarm Activation
- Screen Pop-up on Motion or Alarm Activation
- Main Screen View with Live Audio
- Object Counting
- Day-Night Recording Mode
- Object Search
- Thumbnail Search
- Index Search
- System Log
- Twin DVR
- Dynamic DNS Support
- Managing Multiple Servers in a WebCam
- Point of Sale (POS) Integration
- Geo MPEG4
- Remote Access Log Database Over WebCam
- Samsung SCC-641/643 PTZ Dome Support
---
Center V2 Central Monitoring Station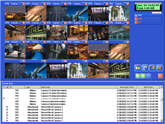 - Bring multiple GV systems together into an integrated interface, allow the operator to manage several systems from one point of control.



---
Major Features
- 640 X 480 recording and display resolution
- Mpeg 4 / Wavelet compression technology
- Motion detection, around the clock, and pre-schedule recording mode
- Alarm to E-mail (Jpeg or text message)
- Embedded I/O devices control
- Embedded PTZ control panel
- Build-in web server
- Digital watermark authentication ensures image integrity and prevent tampering
- 4 levels of password protection
- Hardware watchdog
- In case of alarm, motion, video loss, or I/O error, the system will automatically notify user by telephone, pager or email (Jpeg or text message).
- Full screen display
- Support dynamic IP address
- Video lost detection
- On screen video lost message
- Support dual screen display
- Search file by specific date, time, and camera
- Multiview playback screen
- Remotely access to recorded video and audio files
- Video de-interlace filter
- Video auto gain controller
- Video scaling filter
- Use Microsoft Remote Desktop to control another GV-System
- Mini-View display
- AVI repair utility [back to top]
---
Recording Mode
- Motion detection recording
- Around the clock recording
- Pre-schedule recording
- Pre alarm and post alarm recording
- Pre motion and post motion recording
---
Camera Configuration
- Independent video brightness and contrast control
- Selectable motion detection sensitivity and masking area for each camera.
- Independent recording quality and frame rate adjustment.
---
Remote Monitoring Software
- Remote View
- IP Multicast
- WebCam
- Remote Playback system
- Geo Center
- G-View for Win CE PDA
- i-Mode mobile phone
---

WebCam Features
- Live monitoring and remote playback via Internet browsers, e.g. Internet Explorer (software will be automatically downloaded to the computer, no advance software installation is needed)
- Access to 16 channels of live video in a single web page
- Remote PTZ and I/O control
- Enlarge any camera to full screen
- 3 levels of video quality adjustment
- Support dynamic IP
- Locate video server by domain name or IP
- Two-way audio communication
- Complete remote control and setup


---